Leeds Map
:
Leeds Weather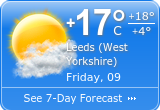 Click for weather forecast
Most viewed and rising..
Leeds Ice Cube Skating
Leeds Weather
Leeds Bonfire
Tropical World Roundhay
Leeds Big Wheel
Leeds postcodes
NEW Leeds Books by Tony Quinn
Take our virtual tour of the city of Leeds UK. We have been recording the city in 360 degrees since 1997 - with panoramic street views and attractions in the Leeds area to produce an interactive trip to our city, Leeds city centre and beyond.
The first direct Arena in Leeds - take the virtual tour of the Leeds Arena Venue.
Join us on our tour of the city centre, including the shopping streets, Victoria Quarter, Town Hall, Leeds Art Gallery, City Square, The Riverside, Royal Armouries, Leeds Markets and other locations to be found on the map of Leeds.
Latest
hotel deals in Leeds
from Booking.com...
Parks and Green Spaces.
Leeds is blessed with acres of green space, with Roundhay Park, one of the largest urban parks in the world, Golden Acre Park, Temple Newsam House, Kirkstall Abbey, Harewood House and Bird Garden, and pockets of green in the city centre such as Park Square and Queens Square
Suburbs and Beyond
Take a tour of Leeds University, Chapel Allerton, Harewood, Aberford, Oulton Hall and Elland Road football ground - home of Leeds United.